Workshop Chairs
Anton Nijholt, University of Twente, The Netherlands
Natalie Mrachacz-Kersting, Aalborg University, Denmark
Brendan Allison, University of California, San Diego, USA
Scope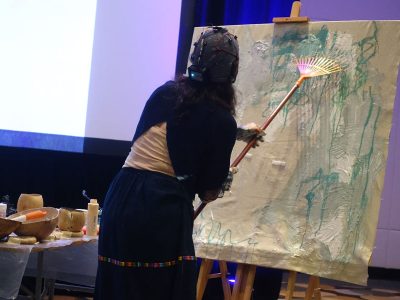 Brain-computer interfaces (BCI) have been used for entertainment, gaming, and artistic expression. These application areas for BCI have been explored in the previous decades. Although commercial applications hardly exist, the general public has been able to get acquainted with BCI and use BCI in artistic installations in urban public spaces, in museums, or during public scientific events. There are also BCI games. Such games can serve different purposes: entertainment (just fun), treatment of mental disorders, or rehabilitation. Affordable BCI devices and BCI software platforms have made it possible for artists and game designers to develop ideas and design installations and applications that do not require them to invest extensive and frustrating time in getting a BCI to work or tuning it to their application. Whether it is about games or artistic BCI installations, multiple users are often involved, and there is direct two-sided interaction between the user(s) and the BCI controlled environment. Moreover, in contrast to clinical BCI research, efficiency and robustness are not the most important issues.
The aim of this workshop is to review current (research) activities in BCIs for games, entertainment, and artistic expression and to identify research areas that are of interest for both BCI and HCI researchers as well as for game designers and media artists using BCI for their interactive installations. Hence, in addition to BCI researchers, game designers, artists, and performers are asked to contribute to this workshop with papers, presentations, and demonstrations.
Topics
Topics of the submissions may include, but are not limited to:
Design, implementation, and evaluation of BCI games and artistic BCIs;
Affective BCI in game, art and entertainment environments
BCI, Augmented and Virtual Reality, serious games;
The impact of BCI Hackathons on research and applications;
Multi-brain and multimodal interaction in game and artistic environments;
BCI environments for self-reflection, empathizing, and therapy;
BCI control of instruments and tools for games and artistic expression; and
Agency in BCI games and interactive art installations
Publication
All registered papers will be published by Springer and made available through SpringerLink Digital Library.
ArtsIT proceedings are indexed in leading indexing services, including Ei Compendex, ISI Web of Science, Scopus, CrossRef, Google Scholar, DBLP, as well as EAI's own EU Digital Library (EUDL).
Submission
Papers should be from 6 to 9 pages long and submitted via the Confy submission system.
Deadlines
·         Submission Deadline: 29 August 2019 [final]
·         Notification Deadline: 27 September 2019
·         Camera-ready Deadline: 10 October 2019
Program Committee
Marvin Andujar, University of South Florida, Tampa, USA
Loïc Botrel, Germany
Chris Crawford, University of Florida, Gainesville, USA
Christoph Guger, g.tec, Graz, Austria
Suzanne Dikker, New York University, USA
Luciana Haill, Greenwich University London, UK
Bojan Kerouš; Masaryk Universiteit, Brno, Czech Republic
Silvia E. Kober, University of Graz, Austria
Mannes Poel, University of Twente, The Netherlands
Felix Putze, Universitaet Bremen, Germany
Mirjana Prpa, Simon Fraser University, Surrey, BC, Canada
Reinhold Scherer, University of Essex, UK
Stephanie Scott, Colorado State University, Fort Collins, USA
Aleksander Valjamae, Tallinn University, Estonia
Shuo Yan, Beihang University, Beijing, China